After Piercing Care
Understanding the importance of proper after care of your newly pierced ears is vital to the long-term results of a safe and problem-free ear piercing.
Improper after care is the primary reason for ear piercing problems. It is important to use genuine Studex products to pierce ears properly and it is even more important to use Studex after care products and follow the Studex after ear piercing cleaning procedures. Studex has spent over 40 years researching and developing the best after care products and procedures.
Your ears are in good hands with Studex.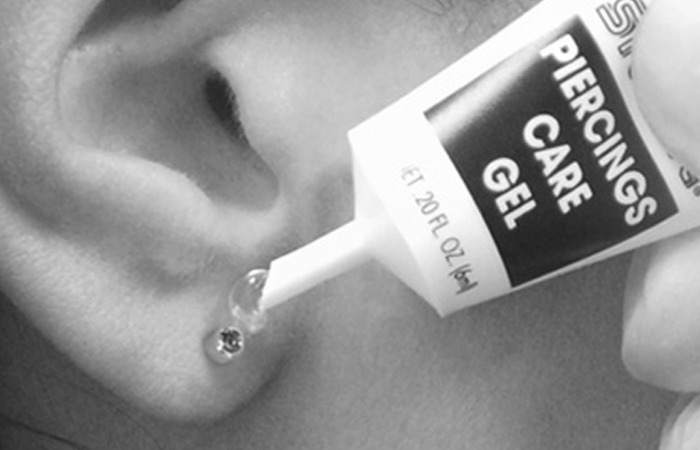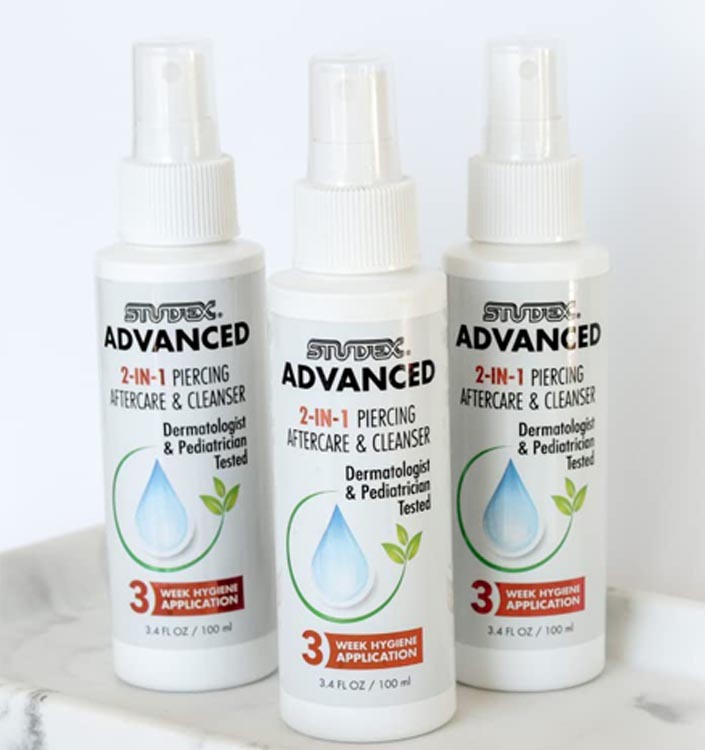 STUDEX Advanced Piercing Aftercare & Cleanser
INGREDIENTS:
Water, Sodium Hypochlorite, Phosphoric Acid Bezalconium Chloride 0.1%, Cl 42090.

PRODUCT DESCRIPTION :
STUDEX Advanced is a new & improved 2 in 1 aftercare & cleanser that is Dermatologist & Pediatrician tested for the Immediate aftercare & ongoing hygiene of your piercing. Formulated by specialists it Is hypoallergenic with a skin neutral pH. It contains purified water & a proprietary manufactured hypochlorous technology to hygienically cleanse and care for the skin.
WHAT MAKES STUDEX ADVANCED 2-IN-1 AFTERCARE & CLEANSER DIFFERENT?
Dermatologist & pediatrician tested with a skin neutral pH New hypoallergenic, non-sensitizing, non-irritant & non-toxic formulation Contains no alcohol, benzalkonium chloride, petroleum, lanolin, oils, steroids, or antibiotics Manufactured in accordance with cGMP & International Standards in safety, reliability & quality
INTENDED USE:
STUDEX Advanced Aftercare & Cleanser Is dermatologist & pediatrician tested for cleansing & caring for the skin with regular application for 3 weeks as an immediate aftercare & ongoing skin cleanser.
CLEANSER DIRECTIONS:
In addition to its use as an aftercare, Studex Advanced should also be used as an ongoing hygiene cleanser for your skin, earrings, and piercings for daily hygiene, after exercise, and when changing your jewelry.
CAUTION:
For External Use Only.
STUDEX EAR PIERCING GEL
INGREDIENTS:
Aqua, Glycerin, Butylene Glycol, Hydroxyethylcellulose, Polysorbate 20, Sodium Benzoate, Methylparaben, Aloe Barbadensis (Leaf) Extract, Bezalconium Chloride 0.1%, Cl 42090.

PROPER CARE OF YOUR PIERCINGS :
STUDEX, Piercing Care Gel is designed to protect newly pierced ears. It is intended for twice-daily use to assist the healing process.
DIRECTIONS:

With your new piercing studs in, gently clean your ears with soap and warm water twice a day.
Apply a small amount of genuine STUDEX Piercing Care Gel to the front and back of your piercing studs. Gently slide the studs back and forth.
Do not remove your piercing studs. Repeat this process for 6-8 week If irritation to your skin or any infection occurs, discontinue use and consult a physician immediately. Following these procedures can help you maintain clean healthy pierced ears.
CAUTION:
For External Use Only.